Modular Sworn Brothers of the Nights Watch
Item Code: DSM5901
This set consists of 5 bodies, 10 different heads and an assortment of weapons, ravens and armory to configure your Night's Watch members individually, see details for larger pics.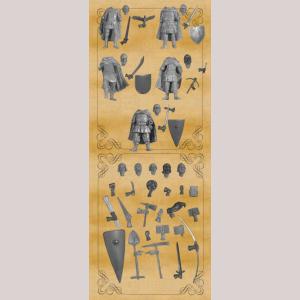 The miniatures are not pre-painted!
All items come in bare pewter metal.
Assembly required on some figures.
Some sets contain small parts.
Not suitable for children under 14 years of age.
Our Recommendation:
These miniatures are also based upon the artwork "A Song of Ice and Fire" by George R. R. Martin:

Image
Description
Price
Cart
Jon Snow
DSM5001


In Stock:

(stock may drop shortly)

11,99 €



Add to Cart

Ser Sandor Clegane "The Hound"
DSM5002


In Stock:

(stock may drop shortly)

11,99 €



Add to Cart

Melisandre - Priestess of R'hllor
DSM5003


In Stock:

(stock may drop shortly)

11,99 €



Add to Cart

Ser Jaime Lannister
DSM5004


In Stock:

(stock may drop shortly)

11,99 €



Add to Cart

Cersei Lannister
DSM5005


In Stock:

(stock may drop shortly)

11,99 €



Add to Cart

Ser Loras Tyrell "Knight of the Flowers"
DSM5006


In Stock:

(stock may drop shortly)

11,99 €



Add to Cart

Night's Watch Archer
DSM5007


In Stock:

(stock may drop shortly)

11,99 €



Add to Cart

Night's Watch Raven Keeper of the Shadow Tower
DSM5008


In Stock:

(stock may drop shortly)

11,99 €



Add to Cart

Night's Watch Warrior with Spear
DSM5009


In Stock:

(stock may drop shortly)

11,99 €



Add to Cart

Night's Watch Warrior with Weapon/Shield Choices
DSM5010


In Stock:

(stock may drop shortly)

11,99 €



Add to Cart

Lannister Lady in Waiting
DSM5012


In Stock:

(stock may drop shortly)

11,99 €



Add to Cart

Gold Cloak #1
DSM5013


In Stock:

(stock may drop shortly)

11,99 €



Add to Cart

Gold Cloak #2
DSM5014


In Stock:

(stock may drop shortly)

11,99 €



Add to Cart

Wildling Warrior with Long Sword and Shield
DSM5015


In Stock:

(stock may drop shortly)

11,99 €



Add to Cart

Wildling Warrior with Great Axe
DSM5016


In Stock:

(stock may drop shortly)

11,99 €



Add to Cart

Wildling Warrior with Spear
DSM5017


In Stock:

(stock may drop shortly)

11,99 €



Add to Cart

Wildling Warrior with Axe and Spiked Club
DSM5018


In Stock:

(stock may drop shortly)

11,99 €



Add to Cart

Wildling Spearwife with Short Sword and Shield
DSM5019


In Stock:

(stock may drop shortly)

11,99 €



Add to Cart

Wildling Spearwife with Bow
DSM5020


In Stock:

11,99 €



Add to Cart

Daenerys with Newborn Dragons - 54mm
DSM5501


In Stock:

(stock may drop shortly)

29,99 €



Add to Cart

Alfyn Crowkiller Wildling Captain/Raider
DSM5021


In Stock:

(stock may drop shortly)

11,99 €



Add to Cart

Rattleshirt, Lord of the Bones - Wildling
DSM5022


In Stock:

(stock may drop shortly)

11,99 €



Add to Cart

Mance Rayder - Wildling Leader
DSM5023


In Stock:

(stock may drop shortly)

11,99 €



Add to Cart

Theon Greyjoy
DSM5024


In Stock:

(stock may drop shortly)

11,99 €



Add to Cart

Veteran Hedge Knight with Long Sword and Shield
DSM5025


In Stock:

(stock may drop shortly)

11,99 €



Add to Cart

Young Hedge Knight - Dual Wield
DSM5026


In Stock:

(stock may drop shortly)

11,99 €



Add to Cart

Tyrion Lannister
DSM5027


In Stock:

(stock may drop shortly)

11,99 €



Add to Cart

Tyrion Lannister 54mm
DSM5502


In Stock:

(stock may drop shortly)

24,99 €



Add to Cart

Dire Wolf Diorama
DSM5101


In Stock:

(stock may drop shortly)

24,99 €



Add to Cart

Asha Greyjoy
DSM5028


In Stock:

(stock may drop shortly)

11,99 €



Add to Cart

Ygritte
DSM5029


In Stock:

(stock may drop shortly)

11,99 €



Add to Cart

Victarion Greyjoy
DSM5030


In Stock:

(stock may drop shortly)

11,99 €



Add to Cart

Ser Gregor Clegane "The Mountain"
DSM5032


In Stock:

(stock may drop shortly)

29,99 €



Add to Cart

Aeron "Damphair" Greyjoy
DSM5031


In Stock:

(stock may drop shortly)

11,99 €



Add to Cart

Prince Oberyn "The Red Viper"
DSM5033


In Stock:

(stock may drop shortly)

11,99 €



Add to Cart

Brienne
DSM5034


In Stock:

(stock may drop shortly)

11,99 €



Add to Cart

Catelyn Stark
DSM5036


In Stock:

(stock may drop shortly)

11,99 €



Add to Cart

Robb Stark "The Young Wolf"
DSM5035


In Stock:

(stock may drop shortly)

11,99 €



Add to Cart

Arya Stark "On the run"
DSM5038


In Stock:

11,99 €



Add to Cart

Sansa Stark
DSM5037


In Stock:

(stock may drop shortly)

11,99 €



Add to Cart

Sansa Stark Building a Snow Castle
DSM5039


In Stock:

(stock may drop shortly)

11,99 €



Add to Cart

Ghost - Jon Snow's Direwolf
DSM5040


In Stock:

(stock may drop shortly)

11,99 €



Add to Cart

Eddard Stark
DSM5042


In Stock:

(stock may drop shortly)

11,99 €



Add to Cart

Samwell Tarly
DSM5043


In Stock:

(stock may drop shortly)

11,99 €



Add to Cart

Euron Greyjoy
DSM5044


In Stock:

(stock may drop shortly)

11,99 €



Add to Cart

Ser Ilyn Payne
DSM5046


In Stock:

(stock may drop shortly)

11,99 €



Add to Cart

Shae
DSM5041


In Stock:

(stock may drop shortly)

11,99 €



Add to Cart

Daenerys V2 (with hair!)
DSM5045


In Stock:

(stock may drop shortly)

11,99 €



Add to Cart

Hodor and Bran Stark
DSM5047


In Stock:

(stock may drop shortly)

24,99 €



Add to Cart

Jojen Reed
DSM5048


In Stock:

(stock may drop shortly)

11,99 €



Add to Cart

Meera Reed
DSM5049


In Stock:

(stock may drop shortly)

11,99 €



Add to Cart

Hodor, Bran, Jojen & Meera w/ Bonus Base
DSM5102


In Stock:

(stock may drop shortly)

49,99 €



Add to Cart

Bronn
DSM5050


In Stock:

(stock may drop shortly)

11,99 €



Add to Cart

Benjen Stark
DSM5051


In Stock:

(stock may drop shortly)

11,99 €



Add to Cart

Young Robert Baratheon
DSM5052


In Stock:

(stock may drop shortly)

11,99 €



Add to Cart

Maester Luwin
DSM5053


In Stock:

11,99 €



Add to Cart

Lysa Arryn
DSM5054


In Stock:

(stock may drop shortly)

11,99 €



Add to Cart

Petyr Baelish "Little Finger"
DSM5060


In Stock:

11,99 €



Add to Cart

Varys "The Spider"
DSM5061


In Stock:

11,99 €



Add to Cart

Fat King Robert Baratheon
DSM5055


In Stock:

(stock may drop shortly)

11,99 €



Add to Cart

Stannis Baratheon on Throne
DSM5056


In Stock:

(stock may drop shortly)

17,99 €



Add to Cart

Renly Baratheon
DSM5057


In Stock:

(stock may drop shortly)

11,99 €



Add to Cart

Lady in Waiting # 2 - Small Chest
DSM5058


In Stock:

(stock may drop shortly)

11,99 €



Add to Cart

Tywin Lannister
DSM5059


In Stock:

(stock may drop shortly)

11,99 €



Add to Cart

The Greatjon Umber
DSM5062


In Stock:

(stock may drop shortly)

17,99 €



Add to Cart

Ser Loras "Knight of the Flowers" - 54mm
DSM5503


In Stock:

(stock may drop shortly)

49,99 €



Add to Cart

Ghost V2 - Dire Wolf
DSM5063


In Stock:

(stock may drop shortly)

15,99 €



Add to Cart

Greywind - Dire Wolf
DSM5064


In Stock:

(stock may drop shortly)

15,99 €



Add to Cart

Nymeria - Dire Wolf
DSM5065


In Stock:

(stock may drop shortly)

15,99 €



Add to Cart

Summer - Dire Wolf
DSM5066


In Stock:

(stock may drop shortly)

15,99 €



Add to Cart

ShaggyDog - Rickon Stark's Direwolf
DSM5067


In Stock:

15,99 €



Add to Cart

Lady - Sansa Stark's Direwolf
DSM5068


In Stock:

(stock may drop shortly)

15,99 €



Add to Cart

Rickon Stark
DSM5069


In Stock:

(stock may drop shortly)

11,99 €



Add to Cart

Young Robert Baratheon Variant Sculpt - with Surcoat
DSM5070


In Stock:

(stock may drop shortly)

11,99 €



Add to Cart

Ser Waymar Royce of the Night's Watch
DSM5071


In Stock:

(stock may drop shortly)

11,99 €



Add to Cart

Strong Belwas
DSM5072


In Stock:

(stock may drop shortly)

15,99 €



Add to Cart

Arston Whitebeard
DSM5073


In Stock:

(stock may drop shortly)

15,99 €



Add to Cart

Ser Jorah Mormont
DSM5074


In Stock:

(stock may drop shortly)

11,99 €



Add to Cart

Margaery Tyrell
DSM5075


In Stock:

(stock may drop shortly)

11,99 €



Add to Cart

Lady in Waiting # 4 - Roses
DSM5077


In Stock:

(stock may drop shortly)

11,99 €



Add to Cart

Lady in Waiting # 3 - Perfume Bottle
DSM5078


In Stock:

(stock may drop shortly)

11,99 €



Add to Cart

Night's Watch Warrior with Weapon Options
DSM5076


In Stock:

(stock may drop shortly)

11,99 €



Add to Cart

Balon Greyjoy
DSM5079


In Stock:

(stock may drop shortly)

11,99 €



Add to Cart

Old Nan
DSM5080


In Stock:

11,99 €



Add to Cart

Lady Olenna "The Queen of Thorns"
DSM5081


In Stock:

(stock may drop shortly)

11,99 €



Add to Cart

Southern Westeros Archer #6
DSM5087


In Stock:

(stock may drop shortly)

11,99 €



Add to Cart

Southern Westeros Archer #5
DSM5086


In Stock:

(stock may drop shortly)

11,99 €



Add to Cart

Southern Westeros Archer #4
DSM5085


In Stock:

(stock may drop shortly)

11,99 €



Add to Cart

Southern Westeros Archer #3
DSM5084


In Stock:

(stock may drop shortly)

11,99 €



Add to Cart

Southern Westeros Archer #2
DSM5083


In Stock:

(stock may drop shortly)

11,99 €



Add to Cart

Southern Westeros Archer #1
DSM5082


In Stock:

(stock may drop shortly)

11,99 €



Add to Cart

Tormund Giantsbane - Wildling Raider
DSM5088


In Stock:

(stock may drop shortly)

11,99 €



Add to Cart

Stern Septa
DSM5109


In Stock:

11,99 €



Add to Cart

Chataya's Brothel Worker
DSM5110


In Stock:

(stock may drop shortly)

11,99 €



Add to Cart

Male Minstrel with Lute
DSM5111


In Stock:

(stock may drop shortly)

14,99 €



Add to Cart

Female Minstrel with Tambourine
DSM5112


In Stock:

(stock may drop shortly)

11,99 €



Add to Cart

Young Cocky Hedge Knight
DSM5113


In Stock:

(stock may drop shortly)

15,99 €



Add to Cart

Tribute Sculpt - Kev of the Nights Watch
DSM5114


In Stock:

(stock may drop shortly)

14,99 €



Add to Cart

Tribute Sculpt - Tre of the Nights Watch
DSM5115


In Stock:

(stock may drop shortly)

14,99 €



Add to Cart

Prince Joffrey Baratheon
DSM5089


In Stock:

(stock may drop shortly)

11,99 €



Add to Cart

Jeor Mormont - The Old Bear
DSM5090


In Stock:

(stock may drop shortly)

15,99 €



Add to Cart

Davos Seaworth - The Onion Knight
DSM5091


In Stock:

(stock may drop shortly)

11,99 €



Add to Cart

Grand Maester Pycelle
DSM5092


In Stock:

(stock may drop shortly)

11,99 €



Add to Cart

Viserys Targaryen - The Beggar King
DSM5093


In Stock:

(stock may drop shortly)

11,99 €



Add to Cart

Ser Barristan Selmy - Kingsguard
DSM5094


In Stock:

14,99 €



Add to Cart

Arianne Martell
DSM5095


In Stock:

(stock may drop shortly)

11,99 €



Add to Cart

Chataya
DSM5096


In Stock:

(stock may drop shortly)

11,99 €



Add to Cart

Ser Brynden Tully - The Blackfish
DSM5097


In Stock:

(stock may drop shortly)

15,99 €



Add to Cart

Mounted Ser Loras Tyrell - Knight of the Flowers
DSM5098


In Stock:

(stock may drop shortly)

39,99 €



Add to Cart

Mounted Khal Drogo
DSM5099


In Stock:

(stock may drop shortly)

39,99 €



Add to Cart

Young Lady in Waiting with Puppy
DSM5108


In Stock:

(stock may drop shortly)

11,99 €



Add to Cart

Scribe of Westeros at Writing Desk
DSM5100


In Stock:

(stock may drop shortly)

24,99 €



Add to Cart

Qhorin Half Hand - Nights Watch
DSM5116


In Stock:

(stock may drop shortly)

15,99 €



Add to Cart

Sworn Brother DiTerlizzi of the Nights Watch - Tribute
DSM5117


In Stock:

(stock may drop shortly)

14,99 €



Add to Cart

Osha - Female Wildling with Spear
DSM5118


In Stock:

(stock may drop shortly)

14,99 €



Add to Cart

Roose Bolton
DSM5119


In Stock:

(stock may drop shortly)

11,99 €



Add to Cart

Ramsey Bolton - The Bastard Son
DSM5120


In Stock:

(stock may drop shortly)

11,99 €



Add to Cart

Obara Sand - Sand Snake
DSM5121


In Stock:

(stock may drop shortly)

14,99 €



Add to Cart

Tyene Sand - Sand Snake
DSM5122


In Stock:

(stock may drop shortly)

11,99 €



Add to Cart

Nymeria Sand - Sand Snake
DSM5123


In Stock:

(stock may drop shortly)

11,99 €



Add to Cart

Beric Dondarrion - The Lightning Lord
DSM5124


In Stock:

(stock may drop shortly)

14,99 €



Add to Cart

Thoros of Myr - The Red Priest
DSM5125


In Stock:

14,99 €



Add to Cart

Daario Naharis
DSM5126


In Stock:

(stock may drop shortly)

15,99 €



Add to Cart

Modular Nights Watch Warrior #1
DSM5103


In Stock:

(stock may drop shortly)

15,99 €



Add to Cart

Modular Nights Watch Warrior #2
DSM5104


In Stock:

(stock may drop shortly)

15,99 €



Add to Cart

Modular Nights Watch Warrior #3
DSM5105


In Stock:

(stock may drop shortly)

15,99 €



Add to Cart

Modular Nights Watch Warrior #4
DSM5106


In Stock:

(stock may drop shortly)

15,99 €



Add to Cart

Modular Nights Watch Warrior #5
DSM5107


In Stock:

(stock may drop shortly)

15,99 €



Add to Cart

Irri - Handmaid
DSM5127


In Stock:

(stock may drop shortly)

11,99 €



Add to Cart

Jhiqui - Handmaid
DSM5128


In Stock:

(stock may drop shortly)

11,99 €



Add to Cart

Female Courtesan
DSM5129


In Stock:

11,99 €



Add to Cart

Myrcella Baratheon
DSM5130


In Stock:

(stock may drop shortly)

11,99 €



Add to Cart

Maester Aemon of the Night's Watch
DSM5131


In Stock:

(stock may drop shortly)

11,99 €



Add to Cart

Grey Worm of the Unsullied
DSM5132


In Stock:

(stock may drop shortly)

14,99 €



Add to Cart

Syrio Forel
DSM5133


In Stock:

(stock may drop shortly)

11,99 €



Add to Cart

Jon Snow - Lord Commander of the Night's Watch
DSM5134


In Stock:

(stock may drop shortly)

11,99 €



Add to Cart

Prince Aegon Targaryen "Egg"
DSM5135


In Stock:

(stock may drop shortly)

11,99 €



Add to Cart

Ser Duncan the Tall "Dunk"
DSM5136


In Stock:

(stock may drop shortly)

14,99 €



Add to Cart

Illyrio Mopatis
DSM5137


In Stock:

(stock may drop shortly)

11,99 €



Add to Cart

Rhaegar Targaryen - Battle at the Ruby Ford
DSM5138


In Stock:

(stock may drop shortly)

14,99 €



Add to Cart

Moon Boy - Jester
DSM5139


In Stock:

(stock may drop shortly)

11,99 €



Add to Cart

Ser Edmure Tully
DSM5140


In Stock:

(stock may drop shortly)

11,99 €



Add to Cart

Yoren - Night's Watch
DSM5141


In Stock:

11,99 €



Add to Cart

Lancel Lannister
DSM5142


In Stock:

(stock may drop shortly)

11,99 €



Add to Cart

Ser Mandon Moore - Kingsguard
DSM5143


In Stock:

(stock may drop shortly)

11,99 €



Add to Cart

Ser Gerold Dayne - Dark Star
DSM5144


In Stock:

(stock may drop shortly)

11,99 €



Add to Cart

Poderick Payne
DSM5145


In Stock:

(stock may drop shortly)

11,99 €



Add to Cart

Janos Slynt - Night's Watch
DSM5146


In Stock:

(stock may drop shortly)

11,99 €



Add to Cart

Cersei Lannister on Lion Fainting Couch
DSM5147


In Stock:

(stock may drop shortly)

17,99 €



Add to Cart

Aegon Targaryen – The Conquerer
DSM5150


In Stock:

11,99 €



Add to Cart

Rhaenys Targaryen
DSM5149


In Stock:

11,99 €



Add to Cart

Visenya Targaryen
DSM5148


In Stock:

11,99 €



Add to Cart
Similar Models:

Image
Description
Price
Cart
Green Witch - Swashbuckler
DSM1102


In Stock:

(stock may drop shortly)

11,99 €



Add to Cart

WereKnight - Male Barbarian
DSM1106


In Stock:

(stock may drop shortly)

11,99 €



Add to Cart

Male Warrior - Shrouded Realm
DSM1111


In Stock:

(stock may drop shortly)

11,99 €



Add to Cart

Male Warrior - Dangerous Journey
DSM1118


In Stock:

(stock may drop shortly)

11,99 €



Add to Cart

Evil Knight with Axes
DSM1120


In Stock:

(stock may drop shortly)

11,99 €



Add to Cart

Male Warrior - Prince of the North
DSM1122


In Stock:

(stock may drop shortly)

11,99 €



Add to Cart

Fighter - Mountain Conflict
DSM1131


In Stock:

(stock may drop shortly)

11,99 €



Add to Cart

Male Vrykyl
DSM1140


In Stock:

(stock may drop shortly)

11,99 €



Add to Cart

Male Fighter with Sword
DSM7101


In Stock:

(stock may drop shortly)

11,99 €



Add to Cart

Male Beastmaster with Sword
DSM7106


In Stock:

(stock may drop shortly)

11,99 €



Add to Cart

Dual Wield Knight
DSM2105


In Stock:

(stock may drop shortly)

11,99 €



Add to Cart

Large Demon Knight - Lost Prince
DSM2106


In Stock:

(stock may drop shortly)

14,99 €



Add to Cart

Male Knight - Return of the Banished
DSM2109


In Stock:

(stock may drop shortly)

11,99 €



Add to Cart

Male Fighter - Eye of the Hunter
DSM2112


In Stock:

(stock may drop shortly)

11,99 €



Add to Cart

Barbarian Fighting Serpent Monster
DSM7201


In Stock:

(stock may drop shortly)

11,99 €



Add to Cart

Male Knight with Assorted Weapons
DSM7202


In Stock:

(stock may drop shortly)

11,99 €



Add to Cart

Shadamehr Mounted Knight
DSM1220


In Stock:

(stock may drop shortly)

17,99 €



Add to Cart

Ser Sandor Clegane "The Hound"
DSM5002


In Stock:

(stock may drop shortly)

11,99 €



Add to Cart

Ser Jaime Lannister
DSM5004


In Stock:

(stock may drop shortly)

11,99 €



Add to Cart

Ser Loras Tyrell "Knight of the Flowers"
DSM5006


In Stock:

(stock may drop shortly)

11,99 €



Add to Cart

Night's Watch Raven Keeper of the Shadow Tower
DSM5008


In Stock:

(stock may drop shortly)

11,99 €



Add to Cart

Night's Watch Warrior with Spear
DSM5009


In Stock:

(stock may drop shortly)

11,99 €



Add to Cart

Male Knight with Sword and Shield
DSM1156


In Stock:

(stock may drop shortly)

11,99 €



Add to Cart

Classic Male Barbarian
DSM7401


In Stock:

(stock may drop shortly)

11,99 €



Add to Cart

Gold Cloak #1
DSM5013


In Stock:

(stock may drop shortly)

11,99 €



Add to Cart

Gold Cloak #2
DSM5014


In Stock:

(stock may drop shortly)

11,99 €



Add to Cart

Wildling Warrior with Long Sword and Shield
DSM5015


In Stock:

(stock may drop shortly)

11,99 €



Add to Cart

Wildling Warrior with Great Axe
DSM5016


In Stock:

(stock may drop shortly)

11,99 €



Add to Cart

Wildling Warrior with Spear
DSM5017


In Stock:

(stock may drop shortly)

11,99 €



Add to Cart

Wildling Warrior with Axe and Spiked Club
DSM5018


In Stock:

(stock may drop shortly)

11,99 €



Add to Cart

Alfyn Crowkiller Wildling Captain/Raider
DSM5021


In Stock:

(stock may drop shortly)

11,99 €



Add to Cart

Rattleshirt, Lord of the Bones - Wildling
DSM5022


In Stock:

(stock may drop shortly)

11,99 €



Add to Cart

Male Samurai
DSM7412


In Stock:

(stock may drop shortly)

11,99 €



Add to Cart

Bear Chariot of the Ice Lands
IWM-10-410


In Stock:

(stock may drop shortly)

39,99 €



Add to Cart

Theon Greyjoy
DSM5024


In Stock:

(stock may drop shortly)

11,99 €



Add to Cart

Veteran Hedge Knight with Long Sword and Shield
DSM5025


In Stock:

(stock may drop shortly)

11,99 €



Add to Cart

Young Hedge Knight - Dual Wield
DSM5026


In Stock:

(stock may drop shortly)

11,99 €



Add to Cart

Male Paladin
DSM4101


In Stock:

(stock may drop shortly)

11,99 €



Add to Cart

Male Anti Paladin
DSM4102


In Stock:

(stock may drop shortly)

11,99 €



Add to Cart

Male Fighter
DSM4103


In Stock:

(stock may drop shortly)

11,99 €



Add to Cart

Victarion Greyjoy
DSM5030


In Stock:

(stock may drop shortly)

11,99 €



Add to Cart

Ser Gregor Clegane "The Mountain"
DSM5032


In Stock:

(stock may drop shortly)

29,99 €



Add to Cart

Prince Oberyn "The Red Viper"
DSM5033


In Stock:

(stock may drop shortly)

11,99 €



Add to Cart

Male Warrior with Bastard Sword
DSM7416


In Stock:

(stock may drop shortly)

11,99 €



Add to Cart

Robb Stark "The Young Wolf"
DSM5035


In Stock:

(stock may drop shortly)

11,99 €



Add to Cart

Eddard Stark
DSM5042


In Stock:

(stock may drop shortly)

11,99 €



Add to Cart

Samwell Tarly
DSM5043


In Stock:

(stock may drop shortly)

11,99 €



Add to Cart

Euron Greyjoy
DSM5044


In Stock:

(stock may drop shortly)

11,99 €



Add to Cart

Male Blind Warrior
DSM7417


In Stock:

(stock may drop shortly)

11,99 €



Add to Cart

Ser Ilyn Payne
DSM5046


In Stock:

(stock may drop shortly)

11,99 €



Add to Cart

Bronn
DSM5050


In Stock:

(stock may drop shortly)

11,99 €



Add to Cart

Benjen Stark
DSM5051


In Stock:

(stock may drop shortly)

11,99 €



Add to Cart

Young Robert Baratheon
DSM5052


In Stock:

(stock may drop shortly)

11,99 €



Add to Cart

Male Warrior w/ Battle Axe
DSM7427


In Stock:

(stock may drop shortly)

11,99 €



Add to Cart

Stannis Baratheon on Throne
DSM5056


In Stock:

(stock may drop shortly)

17,99 €



Add to Cart

Renly Baratheon
DSM5057


In Stock:

(stock may drop shortly)

11,99 €



Add to Cart

Tywin Lannister
DSM5059


In Stock:

(stock may drop shortly)

11,99 €



Add to Cart

The Greatjon Umber
DSM5062


In Stock:

(stock may drop shortly)

17,99 €



Add to Cart

Ser Loras "Knight of the Flowers" - 54mm
DSM5503


In Stock:

(stock may drop shortly)

49,99 €



Add to Cart

Male Barbarian with Warhammer
DSM7429


In Stock:

(stock may drop shortly)

11,99 €



Add to Cart

Rickon Stark
DSM5069


In Stock:

(stock may drop shortly)

11,99 €



Add to Cart

Young Robert Baratheon Variant Sculpt - with Surcoat
DSM5070


In Stock:

(stock may drop shortly)

11,99 €



Add to Cart

10th Anniversary Male Fighter with Two Handed Dark Sword
DSM7524


In Stock:

(stock may drop shortly)

11,99 €



Add to Cart

10th Anniversary Dennis Mize the Samurai with Rescued Damsel
DSM7525


In Stock:

(stock may drop shortly)

29,99 €



Add to Cart

Ser Waymar Royce of the Night's Watch
DSM5071


In Stock:

(stock may drop shortly)

11,99 €



Add to Cart

Strong Belwas
DSM5072


In Stock:

(stock may drop shortly)

15,99 €



Add to Cart

Arston Whitebeard
DSM5073


In Stock:

(stock may drop shortly)

15,99 €



Add to Cart

Ser Jorah Mormont
DSM5074


In Stock:

(stock may drop shortly)

11,99 €



Add to Cart

Night's Watch Warrior with Weapon Options
DSM5076


In Stock:

(stock may drop shortly)

11,99 €



Add to Cart

Balon Greyjoy
DSM5079


In Stock:

(stock may drop shortly)

11,99 €



Add to Cart

Knight of the Roses
DSM7440


In Stock:

(stock may drop shortly)

11,99 €



Add to Cart

Samurai Warrior
DSM7529


In Stock:

(stock may drop shortly)

17,99 €



Add to Cart

Southern Westeros Archer #6
DSM5087


In Stock:

(stock may drop shortly)

11,99 €



Add to Cart

Southern Westeros Archer #5
DSM5086


In Stock:

(stock may drop shortly)

11,99 €



Add to Cart

Southern Westeros Archer #4
DSM5085


In Stock:

(stock may drop shortly)

11,99 €



Add to Cart

Southern Westeros Archer #3
DSM5084


In Stock:

(stock may drop shortly)

11,99 €



Add to Cart

Southern Westeros Archer #2
DSM5083


In Stock:

(stock may drop shortly)

11,99 €



Add to Cart

Southern Westeros Archer #1
DSM5082


In Stock:

(stock may drop shortly)

11,99 €



Add to Cart

Tormund Giantsbane - Wildling Raider
DSM5088


In Stock:

(stock may drop shortly)

11,99 €



Add to Cart

Young Cocky Hedge Knight
DSM5113


In Stock:

(stock may drop shortly)

15,99 €



Add to Cart

Tribute Sculpt - Kev of the Nights Watch
DSM5114


In Stock:

(stock may drop shortly)

14,99 €



Add to Cart

Tribute Sculpt - Tre of the Nights Watch
DSM5115


In Stock:

(stock may drop shortly)

14,99 €



Add to Cart

Jeor Mormont - The Old Bear
DSM5090


In Stock:

(stock may drop shortly)

15,99 €



Add to Cart

Davos Seaworth - The Onion Knight
DSM5091


In Stock:

(stock may drop shortly)

11,99 €



Add to Cart

Viserys Targaryen - The Beggar King
DSM5093


In Stock:

(stock may drop shortly)

11,99 €



Add to Cart

Ser Barristan Selmy - Kingsguard
DSM5094


In Stock:

14,99 €



Add to Cart

Ser Brynden Tully - The Blackfish
DSM5097


In Stock:

(stock may drop shortly)

15,99 €



Add to Cart

Mounted Ser Loras Tyrell - Knight of the Flowers
DSM5098


In Stock:

(stock may drop shortly)

39,99 €



Add to Cart

Mounted Khal Drogo
DSM5099


In Stock:

(stock may drop shortly)

39,99 €



Add to Cart

Male Anti-Paladin
DSM7535


In Stock:

(stock may drop shortly)

17,99 €



Add to Cart

Qhorin Half Hand - Nights Watch
DSM5116


In Stock:

(stock may drop shortly)

15,99 €



Add to Cart

Sworn Brother DiTerlizzi of the Nights Watch - Tribute
DSM5117


In Stock:

(stock may drop shortly)

14,99 €



Add to Cart

Roose Bolton
DSM5119


In Stock:

(stock may drop shortly)

11,99 €



Add to Cart

Ramsey Bolton - The Bastard Son
DSM5120


In Stock:

(stock may drop shortly)

11,99 €



Add to Cart

Beric Dondarrion - The Lightning Lord
DSM5124


In Stock:

(stock may drop shortly)

14,99 €



Add to Cart

Daario Naharis
DSM5126


In Stock:

(stock may drop shortly)

15,99 €



Add to Cart

Harvey Masher
DSM4602


In Stock:

(stock may drop shortly)

11,99 €



Add to Cart

Male Warrior with Crossbow
DSM7461


In Stock:

(stock may drop shortly)

11,99 €



Add to Cart

Male Warrior with Great Sword/Great Axe Weapon Options
DSM7464


In Stock:

(stock may drop shortly)

11,99 €



Add to Cart

Male Warrior with Battle Axe and Shield
DSM7321


In Stock:

(stock may drop shortly)

11,99 €



Add to Cart

Male Warrior with Bastard Sword
DSM7626


In Stock:

(stock may drop shortly)

11,99 €



Add to Cart

Male Paladin with Bastard Sword and Shield
DSM7632


In Stock:

(stock may drop shortly)

11,99 €



Add to Cart

Male Barbarian with Battle Axe
DSM7477


In Stock:

(stock may drop shortly)

11,99 €



Add to Cart

Grey Worm of the Unsullied
DSM5132


In Stock:

(stock may drop shortly)

14,99 €



Add to Cart

Syrio Forel
DSM5133


In Stock:

(stock may drop shortly)

11,99 €



Add to Cart

Jon Snow - Lord Commander of the Night's Watch
DSM5134


In Stock:

(stock may drop shortly)

11,99 €



Add to Cart

Ser Duncan the Tall "Dunk"
DSM5136


In Stock:

(stock may drop shortly)

14,99 €



Add to Cart

Rhaegar Targaryen - Battle at the Ruby Ford
DSM5138


In Stock:

(stock may drop shortly)

14,99 €



Add to Cart

Ser Edmure Tully
DSM5140


In Stock:

(stock may drop shortly)

11,99 €



Add to Cart

Yoren - Night's Watch
DSM5141


In Stock:

11,99 €



Add to Cart

Lancel Lannister
DSM5142


In Stock:

(stock may drop shortly)

11,99 €



Add to Cart

Ser Mandon Moore - Kingsguard
DSM5143


In Stock:

(stock may drop shortly)

11,99 €



Add to Cart

Ser Gerold Dayne - Dark Star
DSM5144


In Stock:

(stock may drop shortly)

11,99 €



Add to Cart

Poderick Payne
DSM5145


In Stock:

(stock may drop shortly)

11,99 €



Add to Cart

Janos Slynt - Night's Watch
DSM5146


In Stock:

(stock may drop shortly)

11,99 €



Add to Cart

Male Bouncer
DSM7338


In Stock:

(stock may drop shortly)

11,99 €



Add to Cart

Young Male Warrior with Sword and Shield
DSM7489


In Stock:

(stock may drop shortly)

11,99 €



Add to Cart

Male Warrior with Sword and Shield
DSM7347


In Stock:

(stock may drop shortly)

11,99 €



Add to Cart

Male Mounted Warrior
DSM1312


In Stock:

(stock may drop shortly)

24,99 €



Add to Cart

Male Warrior with Sword and Shield
DSM7357


In Stock:

(stock may drop shortly)

11,99 €



Add to Cart

Viking Warrior with Battle Axe
DSM7355


In Stock:

(stock may drop shortly)

11,99 €



Add to Cart

Male Barbarian with Sword and Shield
DSM7359


In Stock:

(stock may drop shortly)

11,99 €



Add to Cart

Male Warrior with Axe and Shield
DSM7360


In Stock:

(stock may drop shortly)

11,99 €



Add to Cart

Marching Male Warrior
DSM7375


In Stock:

(stock may drop shortly)

11,99 €



Add to Cart

Male Warrior with Axe & Shield
DSM7350


In Stock:

(stock may drop shortly)

11,99 €



Add to Cart

Dual Wield Warrior with Swords
DSM7109


In Stock:

11,99 €



Add to Cart

Aegon Targaryen – The Conquerer
DSM5150


In Stock:

11,99 €



Add to Cart

Warrior with Lantern and Sword/Axe options
DSM7394


In Stock:

(stock may drop shortly)

11,99 €



Add to Cart

Barbarian with Sword/Axe options
DSM7395


In Stock:

(stock may drop shortly)

13,49 €



Add to Cart

Stout Warrior with Sword
DSM7212


In Stock:

(stock may drop shortly)

11,99 €



Add to Cart

Warrior with Axe and Shield
DSM7222


In Stock:

(stock may drop shortly)

13,49 €



Add to Cart

Braxton – Warrior with Sword & Shield
DSM7223


In Stock:

(stock may drop shortly)

11,99 €



Add to Cart

Sheriff of Nottingham
DSM7220


In Stock:

(stock may drop shortly)

11,99 €



Add to Cart

Guy of Gisborne
DSM7221


In Stock:

(stock may drop shortly)

11,99 €



Add to Cart

Warrior – Dual Wield in Platemail
DSM7235


In Stock:

(stock may drop shortly)

11,99 €



Add to Cart

Swashbuckler with Rapier
DSM7122


In Stock:

(stock may drop shortly)

11,99 €



Add to Cart
74,99 €

Add to cart

In Stock:

(stock may drop shortly)