10th Anniversary Dennis Mize the Samurai with Rescued Damsel
Item Code: DSM7525
There are three head variants included in the standard blister. We have the unhelmed young Dennis Mize that Tom Meier knew, the open faced helm version with older Dennis Mize, and then a fully helmed with mask version people can use if they simply want a cool samurai mini. The female is a totally seperate piece as well if you want to do the Samurai mini on its own.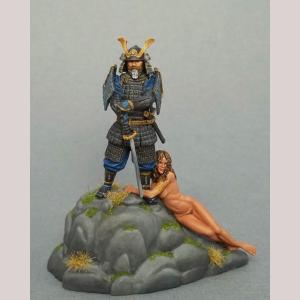 The miniatures are not pre-painted!
All items come in bare pewter metal.
Assembly required on some figures.
Some sets contain small parts.
Not suitable for children under 14 years of age.
Our Recommendation:
Similar Models:

Image
Description
Price
Cart
Green Witch - Swashbuckler
DSM1102


In Stock:

(stock may drop shortly)

11,99 €



Add to Cart

WereKnight - Male Barbarian
DSM1106


In Stock:

(stock may drop shortly)

11,99 €



Add to Cart

Male Warrior - Shrouded Realm
DSM1111


In Stock:

(stock may drop shortly)

11,99 €



Add to Cart

Male Warrior - Dangerous Journey
DSM1118


In Stock:

(stock may drop shortly)

11,99 €



Add to Cart

Evil Knight with Axes
DSM1120


In Stock:

(stock may drop shortly)

11,99 €



Add to Cart

Male Warrior - Prince of the North
DSM1122


In Stock:

(stock may drop shortly)

11,99 €



Add to Cart

Fighter - Mountain Conflict
DSM1131


In Stock:

(stock may drop shortly)

11,99 €



Add to Cart

Male Vrykyl
DSM1140


In Stock:

(stock may drop shortly)

11,99 €



Add to Cart

Male Fighter with Sword
DSM7101


In Stock:

(stock may drop shortly)

11,99 €



Add to Cart

Male Beastmaster with Sword
DSM7106


In Stock:

(stock may drop shortly)

11,99 €



Add to Cart

Dual Wield Knight
DSM2105


In Stock:

(stock may drop shortly)

11,99 €



Add to Cart

Large Demon Knight - Lost Prince
DSM2106


In Stock:

(stock may drop shortly)

14,99 €



Add to Cart

Male Knight - Return of the Banished
DSM2109


In Stock:

(stock may drop shortly)

11,99 €



Add to Cart

Male Fighter - Eye of the Hunter
DSM2112


In Stock:

(stock may drop shortly)

11,99 €



Add to Cart

Barbarian Fighting Serpent Monster
DSM7201


In Stock:

(stock may drop shortly)

11,99 €



Add to Cart

Male Knight with Assorted Weapons
DSM7202


In Stock:

(stock may drop shortly)

11,99 €



Add to Cart

Shadamehr Mounted Knight
DSM1220


In Stock:

(stock may drop shortly)

17,99 €



Add to Cart

Ser Sandor Clegane "The Hound"
DSM5002


In Stock:

(stock may drop shortly)

11,99 €



Add to Cart

Ser Jaime Lannister
DSM5004


In Stock:

(stock may drop shortly)

11,99 €



Add to Cart

Ser Loras Tyrell "Knight of the Flowers"
DSM5006


In Stock:

(stock may drop shortly)

11,99 €



Add to Cart

Night's Watch Raven Keeper of the Shadow Tower
DSM5008


In Stock:

(stock may drop shortly)

11,99 €



Add to Cart

Night's Watch Warrior with Spear
DSM5009


In Stock:

(stock may drop shortly)

11,99 €



Add to Cart

Male Knight with Sword and Shield
DSM1156


In Stock:

(stock may drop shortly)

11,99 €



Add to Cart

Classic Male Barbarian
DSM7401


In Stock:

(stock may drop shortly)

11,99 €



Add to Cart

Gold Cloak #1
DSM5013


In Stock:

(stock may drop shortly)

11,99 €



Add to Cart

Gold Cloak #2
DSM5014


In Stock:

(stock may drop shortly)

11,99 €



Add to Cart

Wildling Warrior with Long Sword and Shield
DSM5015


In Stock:

(stock may drop shortly)

11,99 €



Add to Cart

Wildling Warrior with Great Axe
DSM5016


In Stock:

(stock may drop shortly)

11,99 €



Add to Cart

Wildling Warrior with Spear
DSM5017


In Stock:

(stock may drop shortly)

11,99 €



Add to Cart

Wildling Warrior with Axe and Spiked Club
DSM5018


In Stock:

(stock may drop shortly)

11,99 €



Add to Cart

Alfyn Crowkiller Wildling Captain/Raider
DSM5021


In Stock:

(stock may drop shortly)

11,99 €



Add to Cart

Rattleshirt, Lord of the Bones - Wildling
DSM5022


In Stock:

(stock may drop shortly)

11,99 €



Add to Cart

Male Samurai
DSM7412


In Stock:

(stock may drop shortly)

11,99 €



Add to Cart

Bear Chariot of the Ice Lands
IWM-10-410


In Stock:

(stock may drop shortly)

39,99 €



Add to Cart

Theon Greyjoy
DSM5024


In Stock:

(stock may drop shortly)

11,99 €



Add to Cart

Veteran Hedge Knight with Long Sword and Shield
DSM5025


In Stock:

(stock may drop shortly)

11,99 €



Add to Cart

Young Hedge Knight - Dual Wield
DSM5026


In Stock:

(stock may drop shortly)

11,99 €



Add to Cart

Male Paladin
DSM4101


In Stock:

(stock may drop shortly)

11,99 €



Add to Cart

Male Anti Paladin
DSM4102


In Stock:

(stock may drop shortly)

11,99 €



Add to Cart

Male Fighter
DSM4103


In Stock:

(stock may drop shortly)

11,99 €



Add to Cart

Victarion Greyjoy
DSM5030


In Stock:

(stock may drop shortly)

11,99 €



Add to Cart

Ser Gregor Clegane "The Mountain"
DSM5032


In Stock:

(stock may drop shortly)

29,99 €



Add to Cart

Prince Oberyn "The Red Viper"
DSM5033


In Stock:

(stock may drop shortly)

11,99 €



Add to Cart

Male Warrior with Bastard Sword
DSM7416


In Stock:

(stock may drop shortly)

11,99 €



Add to Cart

Robb Stark "The Young Wolf"
DSM5035


In Stock:

(stock may drop shortly)

11,99 €



Add to Cart

Eddard Stark
DSM5042


In Stock:

(stock may drop shortly)

11,99 €



Add to Cart

Samwell Tarly
DSM5043


In Stock:

(stock may drop shortly)

11,99 €



Add to Cart

Euron Greyjoy
DSM5044


In Stock:

(stock may drop shortly)

11,99 €



Add to Cart

Male Blind Warrior
DSM7417


In Stock:

(stock may drop shortly)

11,99 €



Add to Cart

Ser Ilyn Payne
DSM5046


In Stock:

(stock may drop shortly)

11,99 €



Add to Cart

Bronn
DSM5050


In Stock:

(stock may drop shortly)

11,99 €



Add to Cart

Benjen Stark
DSM5051


In Stock:

(stock may drop shortly)

11,99 €



Add to Cart

Young Robert Baratheon
DSM5052


In Stock:

(stock may drop shortly)

11,99 €



Add to Cart

Male Warrior w/ Battle Axe
DSM7427


In Stock:

(stock may drop shortly)

11,99 €



Add to Cart

Stannis Baratheon on Throne
DSM5056


In Stock:

(stock may drop shortly)

17,99 €



Add to Cart

Renly Baratheon
DSM5057


In Stock:

(stock may drop shortly)

11,99 €



Add to Cart

Tywin Lannister
DSM5059


In Stock:

(stock may drop shortly)

11,99 €



Add to Cart

The Greatjon Umber
DSM5062


In Stock:

(stock may drop shortly)

17,99 €



Add to Cart

Ser Loras "Knight of the Flowers" - 54mm
DSM5503


In Stock:

(stock may drop shortly)

49,99 €



Add to Cart

Male Barbarian with Warhammer
DSM7429


In Stock:

(stock may drop shortly)

11,99 €



Add to Cart

Rickon Stark
DSM5069


In Stock:

(stock may drop shortly)

11,99 €



Add to Cart

Young Robert Baratheon Variant Sculpt - with Surcoat
DSM5070


In Stock:

(stock may drop shortly)

11,99 €



Add to Cart

10th Anniversary Male Fighter with Two Handed Dark Sword
DSM7524


In Stock:

(stock may drop shortly)

11,99 €



Add to Cart

Ser Waymar Royce of the Night's Watch
DSM5071


In Stock:

(stock may drop shortly)

11,99 €



Add to Cart

Strong Belwas
DSM5072


In Stock:

(stock may drop shortly)

15,99 €



Add to Cart

Arston Whitebeard
DSM5073


In Stock:

(stock may drop shortly)

15,99 €



Add to Cart

Ser Jorah Mormont
DSM5074


In Stock:

(stock may drop shortly)

11,99 €



Add to Cart

Night's Watch Warrior with Weapon Options
DSM5076


In Stock:

(stock may drop shortly)

11,99 €



Add to Cart

Balon Greyjoy
DSM5079


In Stock:

(stock may drop shortly)

11,99 €



Add to Cart

Knight of the Roses
DSM7440


In Stock:

(stock may drop shortly)

11,99 €



Add to Cart

Samurai Warrior
DSM7529


In Stock:

(stock may drop shortly)

17,99 €



Add to Cart

Southern Westeros Archer #6
DSM5087


In Stock:

(stock may drop shortly)

11,99 €



Add to Cart

Southern Westeros Archer #5
DSM5086


In Stock:

(stock may drop shortly)

11,99 €



Add to Cart

Southern Westeros Archer #4
DSM5085


In Stock:

(stock may drop shortly)

11,99 €



Add to Cart

Southern Westeros Archer #3
DSM5084


In Stock:

(stock may drop shortly)

11,99 €



Add to Cart

Southern Westeros Archer #2
DSM5083


In Stock:

(stock may drop shortly)

11,99 €



Add to Cart

Southern Westeros Archer #1
DSM5082


In Stock:

(stock may drop shortly)

11,99 €



Add to Cart

Tormund Giantsbane - Wildling Raider
DSM5088


In Stock:

(stock may drop shortly)

11,99 €



Add to Cart

Young Cocky Hedge Knight
DSM5113


In Stock:

(stock may drop shortly)

15,99 €



Add to Cart

Tribute Sculpt - Kev of the Nights Watch
DSM5114


In Stock:

(stock may drop shortly)

14,99 €



Add to Cart

Tribute Sculpt - Tre of the Nights Watch
DSM5115


In Stock:

(stock may drop shortly)

14,99 €



Add to Cart

Jeor Mormont - The Old Bear
DSM5090


In Stock:

(stock may drop shortly)

15,99 €



Add to Cart

Davos Seaworth - The Onion Knight
DSM5091


In Stock:

(stock may drop shortly)

11,99 €



Add to Cart

Viserys Targaryen - The Beggar King
DSM5093


In Stock:

(stock may drop shortly)

11,99 €



Add to Cart

Ser Barristan Selmy - Kingsguard
DSM5094


In Stock:

14,99 €



Add to Cart

Ser Brynden Tully - The Blackfish
DSM5097


In Stock:

(stock may drop shortly)

15,99 €



Add to Cart

Mounted Ser Loras Tyrell - Knight of the Flowers
DSM5098


In Stock:

(stock may drop shortly)

39,99 €



Add to Cart

Mounted Khal Drogo
DSM5099


In Stock:

(stock may drop shortly)

39,99 €



Add to Cart

Modular Sworn Brothers of the Nights Watch
DSM5901


In Stock:

(stock may drop shortly)

74,99 €



Add to Cart

Male Anti-Paladin
DSM7535


In Stock:

(stock may drop shortly)

17,99 €



Add to Cart

Qhorin Half Hand - Nights Watch
DSM5116


In Stock:

(stock may drop shortly)

15,99 €



Add to Cart

Sworn Brother DiTerlizzi of the Nights Watch - Tribute
DSM5117


In Stock:

(stock may drop shortly)

14,99 €



Add to Cart

Roose Bolton
DSM5119


In Stock:

(stock may drop shortly)

11,99 €



Add to Cart

Ramsey Bolton - The Bastard Son
DSM5120


In Stock:

(stock may drop shortly)

11,99 €



Add to Cart

Beric Dondarrion - The Lightning Lord
DSM5124


In Stock:

(stock may drop shortly)

14,99 €



Add to Cart

Daario Naharis
DSM5126


In Stock:

(stock may drop shortly)

15,99 €



Add to Cart

Harvey Masher
DSM4602


In Stock:

(stock may drop shortly)

11,99 €



Add to Cart

Male Warrior with Crossbow
DSM7461


In Stock:

(stock may drop shortly)

11,99 €



Add to Cart

Male Warrior with Great Sword/Great Axe Weapon Options
DSM7464


In Stock:

(stock may drop shortly)

11,99 €



Add to Cart

Male Warrior with Battle Axe and Shield
DSM7321


In Stock:

(stock may drop shortly)

11,99 €



Add to Cart

Male Warrior with Bastard Sword
DSM7626


In Stock:

(stock may drop shortly)

11,99 €



Add to Cart

Male Paladin with Bastard Sword and Shield
DSM7632


In Stock:

(stock may drop shortly)

11,99 €



Add to Cart

Male Barbarian with Battle Axe
DSM7477


In Stock:

(stock may drop shortly)

11,99 €



Add to Cart

Grey Worm of the Unsullied
DSM5132


In Stock:

(stock may drop shortly)

14,99 €



Add to Cart

Syrio Forel
DSM5133


In Stock:

(stock may drop shortly)

11,99 €



Add to Cart

Jon Snow - Lord Commander of the Night's Watch
DSM5134


In Stock:

(stock may drop shortly)

11,99 €



Add to Cart

Ser Duncan the Tall "Dunk"
DSM5136


In Stock:

(stock may drop shortly)

14,99 €



Add to Cart

Rhaegar Targaryen - Battle at the Ruby Ford
DSM5138


In Stock:

(stock may drop shortly)

14,99 €



Add to Cart

Ser Edmure Tully
DSM5140


In Stock:

(stock may drop shortly)

11,99 €



Add to Cart

Yoren - Night's Watch
DSM5141


In Stock:

11,99 €



Add to Cart

Lancel Lannister
DSM5142


In Stock:

(stock may drop shortly)

11,99 €



Add to Cart

Ser Mandon Moore - Kingsguard
DSM5143


In Stock:

(stock may drop shortly)

11,99 €



Add to Cart

Ser Gerold Dayne - Dark Star
DSM5144


In Stock:

(stock may drop shortly)

11,99 €



Add to Cart

Poderick Payne
DSM5145


In Stock:

(stock may drop shortly)

11,99 €



Add to Cart

Janos Slynt - Night's Watch
DSM5146


In Stock:

(stock may drop shortly)

11,99 €



Add to Cart

Male Bouncer
DSM7338


In Stock:

(stock may drop shortly)

11,99 €



Add to Cart

Young Male Warrior with Sword and Shield
DSM7489


In Stock:

(stock may drop shortly)

11,99 €



Add to Cart

Male Warrior with Sword and Shield
DSM7347


In Stock:

(stock may drop shortly)

11,99 €



Add to Cart

Male Mounted Warrior
DSM1312


In Stock:

(stock may drop shortly)

24,99 €



Add to Cart

Male Warrior with Sword and Shield
DSM7357


In Stock:

(stock may drop shortly)

11,99 €



Add to Cart

Viking Warrior with Battle Axe
DSM7355


In Stock:

(stock may drop shortly)

11,99 €



Add to Cart

Male Barbarian with Sword and Shield
DSM7359


In Stock:

(stock may drop shortly)

11,99 €



Add to Cart

Male Warrior with Axe and Shield
DSM7360


In Stock:

(stock may drop shortly)

11,99 €



Add to Cart

Marching Male Warrior
DSM7375


In Stock:

(stock may drop shortly)

11,99 €



Add to Cart

Male Warrior with Axe & Shield
DSM7350


In Stock:

(stock may drop shortly)

11,99 €



Add to Cart

Dual Wield Warrior with Swords
DSM7109


In Stock:

11,99 €



Add to Cart

Aegon Targaryen – The Conquerer
DSM5150


In Stock:

11,99 €



Add to Cart

Warrior with Lantern and Sword/Axe options
DSM7394


In Stock:

(stock may drop shortly)

11,99 €



Add to Cart

Barbarian with Sword/Axe options
DSM7395


In Stock:

(stock may drop shortly)

13,49 €



Add to Cart

Stout Warrior with Sword
DSM7212


In Stock:

(stock may drop shortly)

11,99 €



Add to Cart

Warrior with Axe and Shield
DSM7222


In Stock:

(stock may drop shortly)

13,49 €



Add to Cart

Braxton – Warrior with Sword & Shield
DSM7223


In Stock:

(stock may drop shortly)

11,99 €



Add to Cart

Sheriff of Nottingham
DSM7220


In Stock:

(stock may drop shortly)

11,99 €



Add to Cart

Guy of Gisborne
DSM7221


In Stock:

(stock may drop shortly)

11,99 €



Add to Cart

Warrior – Dual Wield in Platemail
DSM7235


In Stock:

(stock may drop shortly)

11,99 €



Add to Cart

Swashbuckler with Rapier
DSM7122


In Stock:

(stock may drop shortly)

11,99 €



Add to Cart
29,99 €

Add to cart

In Stock:

(stock may drop shortly)