Masterworks Miniature Painting Haley/Foerster 3-DVD Set
Item Code: DSM-DVD05
This is a jam-packed 3 DVD Set with over 10 hours of instruction! In addition, we have some fun slideshows and inspirational galleries on the DVD for your viewing pleasure. Watch the trailer on YouTube.

Learn the basic techniques to sound miniature painting and then build upon these basic techniques from module to module into more advanced techniques under the guidance of multi award-winning miniature painters Jen Haley and Anne Foerster. From brush and paint selection, assembly, priming, color theory, terminology, and smooth basecoats all the way up to washes, glazes, painting amazing flesh tones, faces, eyes, hair, source lighting, and NMM armor/weapons, this DVD set will take your miniature painting to the next level.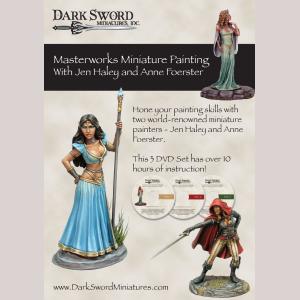 The miniatures are not pre-painted!
All items come in bare pewter metal.
Assembly required on some figures.
Some sets contain small parts.
Not suitable for children under 14 years of age.
Our Recommendation:
Similar Models:

Image
Description
Price
Cart
CMON-Miniature Painting Secrets with Jen Haley, 2 DVD Set
DSM-DVD04


In Stock:

(stock may drop shortly)

49,99 €



Add to Cart

Frothy UK Badger
DSM7983


In Stock:

(stock may drop shortly)

24,99 €



Add to Cart

Jessica Rich Masterworks Miniatures Painting, 6 DVD SET
DSM-DVD07


In Stock:

(stock may drop shortly)

74,99 €



Add to Cart
59,99 €

Add to cart

In Stock:

(stock may drop shortly)