Adult Land Shark and Pups x 3 (Resin & Pewter Kit)
Item Code: DSM4802
This kit contains a resin adult land shark with two different dorsal fin choices included in the kit - both options are shown below (raised and lowered dorsal fin). It also contains the three pewter land shark pups shown. You can scroll down below to get a size comparison picture that was taken by Dave Summers when he was sculpting the piece up next to another DiTerlizzi Masterworks human sized miniature (she is not included in the kit).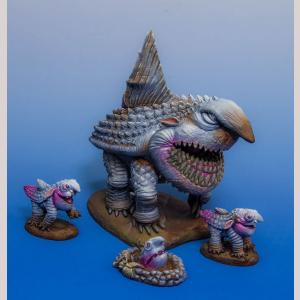 The miniatures are not pre-painted!
All items come in bare pewter metal.
Assembly required on some figures.
Some sets contain small parts.
Not suitable for children under 14 years of age.
Our Recommendation:
Similar Models:

Image
Description
Price
Cart
Owlbear and Cubs
DSM4634


In Stock:

(stock may drop shortly)

39,99 €



Add to Cart

Stirge Attack Pack
DSM4633


In Stock:

(stock may drop shortly)

17,99 €



Add to Cart

Owl Bear Cubs - Male and Female
DSM4636


In Stock:

(stock may drop shortly)

11,99 €



Add to Cart

Rosloff the Wererat - Human Form
DSM4637


In Stock:

(stock may drop shortly)

11,99 €



Add to Cart

Rusty the Rust Monster
DSM4641


In Stock:

(stock may drop shortly)

11,99 €



Add to Cart

Bullywug with Spear
DSM4642


In Stock:

(stock may drop shortly)

11,99 €



Add to Cart

Land Shark Pups x 3
DSM4647


In Stock:

(stock may drop shortly)

24,99 €



Add to Cart

The Shambler
DSM4646


In Stock:

(stock may drop shortly)

39,99 €



Add to Cart
54,99 €

Add to cart

In Stock:

(stock may drop shortly)