Jessica Rich Masterworks Miniatures Painting, 6 DVD SET
Item Code: DSM-DVD07
This comprehensive 6 DVD set with over 20 hours of content will help miniature painters of all skill levels further refine/enhance their craft. Jessica will demonstrate how she paints her amazingly smooth skin tones, insane freehand patterns/portraits, NMM, OSL, limited color palettes, and much more. DVD Region Code 0, NTSC-Format. Watch the trailer on YouTube.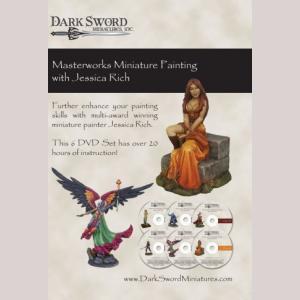 The miniatures are not pre-painted!
All items come in bare pewter metal.
Assembly required on some figures.
Some sets contain small parts.
Not suitable for children under 14 years of age.
Our Recommendation:
Similar Models:

Image
Description
Price
Cart
CMON-Miniature Painting Secrets with Jen Haley, 2 DVD Set
DSM-DVD04


In Stock:

(stock may drop shortly)

49,99 €



Add to Cart

Frothy UK Badger
DSM7983


In Stock:

(stock may drop shortly)

24,99 €



Add to Cart
74,99 €

Add to cart

In Stock:

(stock may drop shortly)